Gary Bettman, the current commissioner of the National Hockey League, has a large reputation for being "boo-ed" whenever he comes up onto a stage or arena. One of the reasons that may lead to his negative reputation with NHL fans are the controversial cities that he selects for the creation (or relocation) of professional hockey teams. Whilst some, such as Nashville, Anaheim and Minnesota have been successful, there have been a handful of cities that have not shared that same glory. For instance, his attempts of creating successful and popular hockey teams "in non-traditional hockey markets, especially in the Sun Belt, [have been] controversial and has had mixed results." (Beacon, 2018) Teams such as the Arizona Coyotes and the Carolina Hurricanes have been suffering not only in the standings of the 31-team NHL, but also in terms of viewership and fandom. Additionally, although he has created a mission to expand the sport and league of professional hockey, Bettman has been accused of prioritizing cities suitable for expansion in the United States rather than the hockey-crazy country of Canada. All of these played a role in the confusion and criticism that surrounded the latest professional hockey team to join the NHL – the Vegas Golden Knights. Many anticipated that this expansion would be as fruitless as other desert hockey teams, but 82 games later, Vegas is near the top of the league-wide standings and attendance rate. But how? Are there tell-tale signs of a successful expansion city? What threats and advantages are found in this city that separate it from the hockey being played in Arizona? How has the political economy behind this team dictated its success?
Political economy can be defined as "…a theoretical perspective that seeks to understand the interrelationships of wealth, power, and the media and cultural systems in societies." (Corrigan, 2014) As the expansion of the league into Nevada was only possible by the financial resources of Bill Foley, it is evident that the political economy has a great influence onto sports and the possibility of expansion teams. The political economy is a driving force in the creation of a larger NHL, as well as expansion teams in other sports. It was believed by "league executives [that] adding two new franchises would increase viewership and popularity [and] generate higher revenues" (Cintron, Levine & Hambrick, 2015). This, accompanied with the notion of fantasy cities, has resulted in an economical and cultural environment that has lead to the success of the Vegas Golden Knights.
Destined to Doom?
There is one glaring point of interest that has raised concerns for the success of a professional ice hockey team in Las Vegas – why would a hockey team in a desert environment be popular? According to Opperman, hockey is successful in some cities because of the parallel between the city's culture and the nature of the sport. Comparing hockey in Minnesota to hockey in Las Vegas is unheard of, perhaps due to the fact that "ice hockey holds more cultural significance due to the colder climate." (Opperman, 2017) Findings from a Sports Illustrated author even found this:
The graph above shows the relation between average temperature in January with attendance in units of thousands. Although identifiable as a "correlation rather than causation" (Layton, 2016), this does show the success that colder environments have in finding the numbers for attendance compared to those which are more accustomed to hotter temperatures. It is reasonable that "hockey is often most popular to play in cold weather cities, and those who grow up with the sport are more likely to become attached to it as a fan." (Layton, 2016) As a team that shares the same environment as the Arizona Coyotes (who have not been successful in both attendance and win record), it may have been potentially threatening and noteworthy to both Bill Foley and Gary Bettman before proceeding with expansion contracts. Through a mathematical model, one study even identified Las Vegas as a risky endeavour due to "…the city's much lower locational quality [compared to other expansion options]" (Chernin, Light & Heffernan, 2016) Long term success for this team seems improbable, especially given the "…little local interest in the sport, as evidenced by the low participation levels in amateur hockey in the state of Nevada." (Chernin, Light & Heffernan, 2016) Overall, it does seem like the NHL's move to Vegas was blinded by dazzling lights.
Las Vegas, Fantasy (Sin) City?
Although first impressions on a Nevada hockey team was skeptical, the city of Las Vegas offers a lifestyle that is surprisingly well-tailored for a professional sports team. As a city, Las Vegas aligns very well with the descriptions of a "Fantasy City." Discussed in lecture, we have identified these types of cities as those who are theme-o-centric, branded, active 24 hours, isolated and postmodern. As a 24 hour city that is well known of having a branded "fun" atmosphere, it does seem like Vegas has the suitable basis of being a fantasy city. As a city, Las Vegas has had the long-time branding of being a city where "…entertainment is king, as Las Vegas boasts one of the strongest gambling industries in the nation." (Opperman, 2017) With that sort of branding, it would only make sense for a professional sports team to take to the stage in an entertainment city. This city is isolated geographically in the middle of the desert, so there does seem to be success for this organization given the characteristics of Vegas as a fantasy city.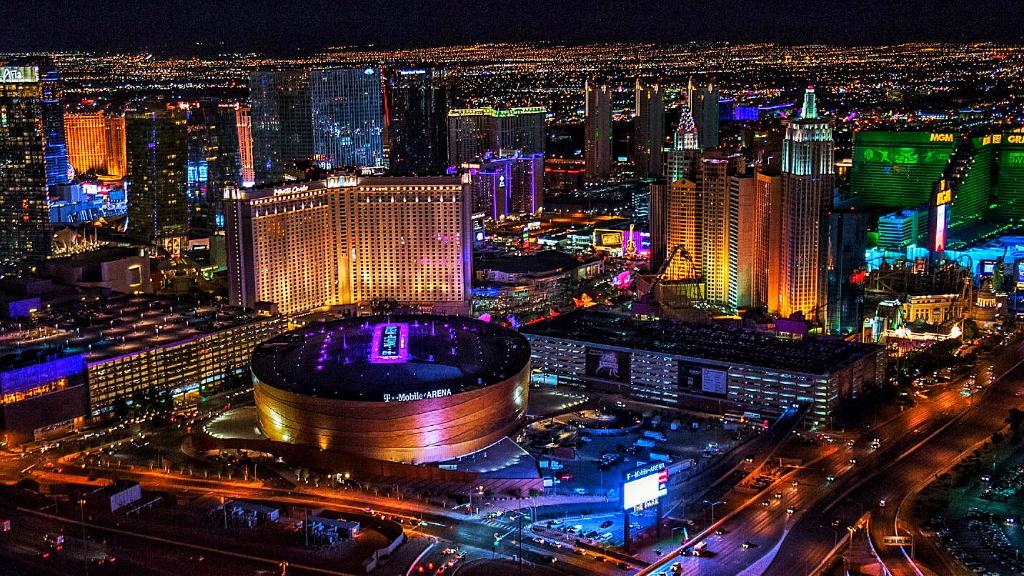 Las Vegas, FAN-tasy City?
Another interesting consideration with the Vegas expansion is the amount of tourists that go to Las Vegas for recreation. It is normal to see fantasy cities benefiting tourists more than locals. As Vegas is a town regularly involved in the tourism industry in the United States, it can be particularly detrimental to the success of the Golden Knights if they did not have fans watching in the arena at a constant rate (i.e. attendance from visitors rather than season ticket holders). However, this did not turn out to be the case, as the success of the Golden Knights was dependent on the political economy at play by both the fans and by management. Bill Foley was "…[successful in running] a season ticket drive that secured more than 13 200 deposits for season tickets." (Chernin, Light & Heffernan, 2016) Additionally, in the first 31 home games, the Golden Knights have been successful in "…averag[ing] 17,969 fans, or 103.5 percent of the arena's capacity, when including standing room tickets" (Belson, 2017). Finally, with their confirmed contention in this year's NHL Playoffs, management has created a plan to limit visiting fans. In order to create a better advantage for their team with a home-crowd presence, the Golden Knights have created a "Knight's Vow" with season ticket holders, offering them playoff tickets at a cheaper rate as long as they do not re-sell these tickets on a reselling platform. As an organization, there is a clear influence that the Golden Knights are pushing towards the political economy of the organization. As per team president Kerry Bubolz, this initiative was created in order to "…build a fan base here for the long term." (Wyshynski, 2018) Management has realized the potential Vegas has as a hockey city, and have influenced the wealth and finances behind that in order to create better cultural relationships with Vegas citizens. Not only that, but the political economy that is being dictated by the wealth of the Golden Knights fans are also making a case for the hockey club's overall success. As these fans continue to crave for hockey in Vegas, they influence the political mechanisms at work.
Sport Spectacle and the Tragedy of Vegas
Sports and their glamorous arenas are not always put on a pedestal beneath shining lights. In the case of the Washington Nationals, the creation of their arena in 2004 has criticized the "…city leaders [who] clearly demonstrate their priorities by funding a project that primarily benefits visitors and corporate interests over the pressing needs of the city's residents." (Friedman, 2010) The executives were under pressure for having ignored some of the cities' problems, which included issues such as violence and poverty. (Friedman, 2010) However, in the unfortunate and unique situations that occurred in Las Vegas on 1 October, this narrative would soon change. In a time where the city was plagued with melancholy, the creation of the Golden Knights was a catalyst for a healing community.
Sports, as a whole, is attractive because "it provides an escape, a brief and often intoxicating respite from the complexities and confusion of everyday life." (Segrave, 2000) Given the circumstances in Las Vegas prior to their inaugural season, this may have had a large factor into the surprising success of Vegas as a franchise. As a distraction from the unfortunate events that had occurred, this hockey team was crucial for the city to heal. However, this franchise's influence on the city goes beyond that. Sports organizations are important to communities because of the community ties that are being more commonly established between team and city. The Golden Knights are no exception, as they have "donated $300,000 towards the victims, their families and Las Vegas' first responders." Without the Golden Knights, Vegas citizens would not be able to identify the "…community values [that] define the morals and ethics attributed not only to the athletes, but the totality of society as a whole." (Macri, 2012) This type of community experience has opened the Golden Knights up to a diverse, engaged group of hometown fans. The passion for community shared between both the Golden Knights and the community of Las Vegas "…are [both] examples of how sport can serve to offer a focal point for an otherwise increasingly fragmented society." (Hassan, 2014) As a comparison to the creation of the Nationals' arena in Washington, Las Vegas uses themselves as a sport spectacle to better improve the community ties and situation of the Vegas community, rather than solely focusing on the financial gain that can be accumulated through the presence of professional sports.
Concluding Remarks
As the regular season of the 2017-2018 season of the National Hockey League concludes, there have been many incredible stories that came with it. Undeniably, one of these is the astounding success that the Vegas Golden Knights have celebrated, including "winning the Pacific Division and breaking records playing their inaugural seasons." (Cotsonika, 2018) This, in the face of the criticisms and doubts that many held at the beginning of the season, has illustrated the successes that franchise expansions can have. However, this does not mean that the NHL should start awarding cities franchises at random. The Vegas Golden Knights, given their unique city branding and unfortunate circumstances that occurred, have shocked expectations from around the hockey community. In face of this, the research that I have conducted regarding the Golden Knights brings me to the following recommendations for the search of potentially successful expansion cities:
Build towards a political economy that benefits both management and the local community.
Fantasy Cities, such as Vegas, have proven to show great interest for the sport both from locals and visitors.
The importance of community engagement and awareness cannot be understated.
As a sport spectacle, a professional hockey team can be a much-needed distraction for the citizens dealing with hardship, not necessarily solely a capitalist move.
Research on the community around the city can be more important than geographic predictors of the popularity of sports in some regions.
Studies on unsuccessful expansion and relocation teams (e.g. Atlanta Thrashers, Quebec Nordiques) can be useful for avoiding fruitless endeavours.
Mathematical models of a franchise's success may not always reflect reality.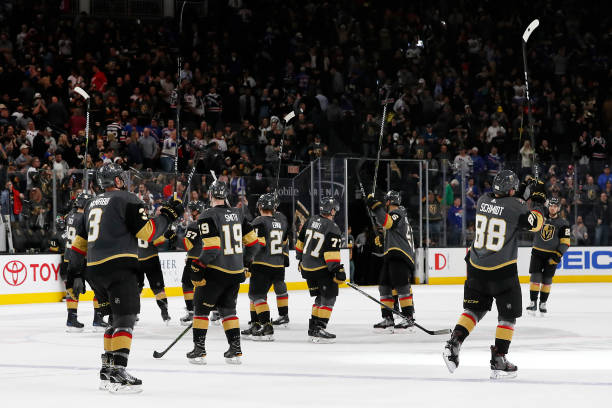 References
POPULAR MEDIA:
Beacon, B. (2018, January 31). Boos and bucks: 25 years of NHL commissioner Gary Bettman. Retrieved from CBC Sports Web Site: www.cbc.ca/sports/hockey/nhl/gary-bettman-nhl-commissioner-25-years-1.4513360
Belson, K. (2017, February 27). As Golden Knights Soar, Las Vegas Stakes Its Claim as a Sports Town. Retrieved from NY Times Sports Web site: https://www.nytimes.com/2018/02/27/sports/vegas-golden-knights-raiders.html
Cotsonika, N. J. (2018, April 8). Golden Knights timeline for success exceeded all expectations. Retrieved from NHL Web Site: https://www.nhl.com/news/vegas-golden-knights-exceeded-all-expectations-in-inaugural-season/c-297809252
Layton, J. (2016, June 25). Obstacles facing the NHL's expansion team in Las Vegas. Retrieved from Sports Illustrated Web site: https://www.si.com/nhl/2016/06/25/nhl-expansion-las-vegas-team-t-mobile-arena-obstacles
Webster, D. (2017, October 4). Golden Knights reach out to help Las Vegas heal after mass shooting. Retrieved from NHL Web Site: https://www.nhl.com/news/vegas-golden-knights-help-las-vegas-heal-after-shootings/c-291558652
Wyshynski, G. (2018, March 29). Golden Knights implement plan to limit visiting fans at playoff games. Retrieved from ESPN Web site: http://www.espn.com/nhl/story/_/id/22949104/vegas-golden-knights-implement-plan-limit-rival-fans-stanley-cup-playoffs
ACADEMIC JOURNALS:
Chernin, A., Light, J., & Heffernan, J. M. (2016). NHL expansion and fan allegiance: a mathematical modelling study. Mathematics-in-Industry Case Studies, 1-20.
Cintron, A., Levine, J. F., & Hambrick, M. E. (2015). A Case Study of the National Hockey League: The Question of Expansion. Case Studies in Sport Management, 17-23.
Corrigan, T. F. (2014). The Political Economy of Sports and New Media. In A.C. Billings & M. Hardin (eds.), Routledge Handbook of Sport and New Media (pp.43-54). New York: Routledge.
Friedman, M.T. & Andrews, D.L. (2010). The built sport spectacle and the opacity of democracy. International Review for the Sociology of Sport, 46(2), 181-204.
Hassan, David. (2014). Sport and communities: an introduction. Sport in Society,
17:1, 1-5, DOI: 10.1080/17430437.2013.828903
Macri, K. J. (2012). Not Just a Game: Sport and Society in the United States. Inquiries Journal, 1.
Opperman, E. (2017). An Analysis of Sports Markets: Franchise Relocation, League Expansion, and Fan Bases. Claremont: CMC Senior Theses.
Segrave, J. O. (2000). Sport as Escape. Journal of Sport and Social Issues, 61-77.